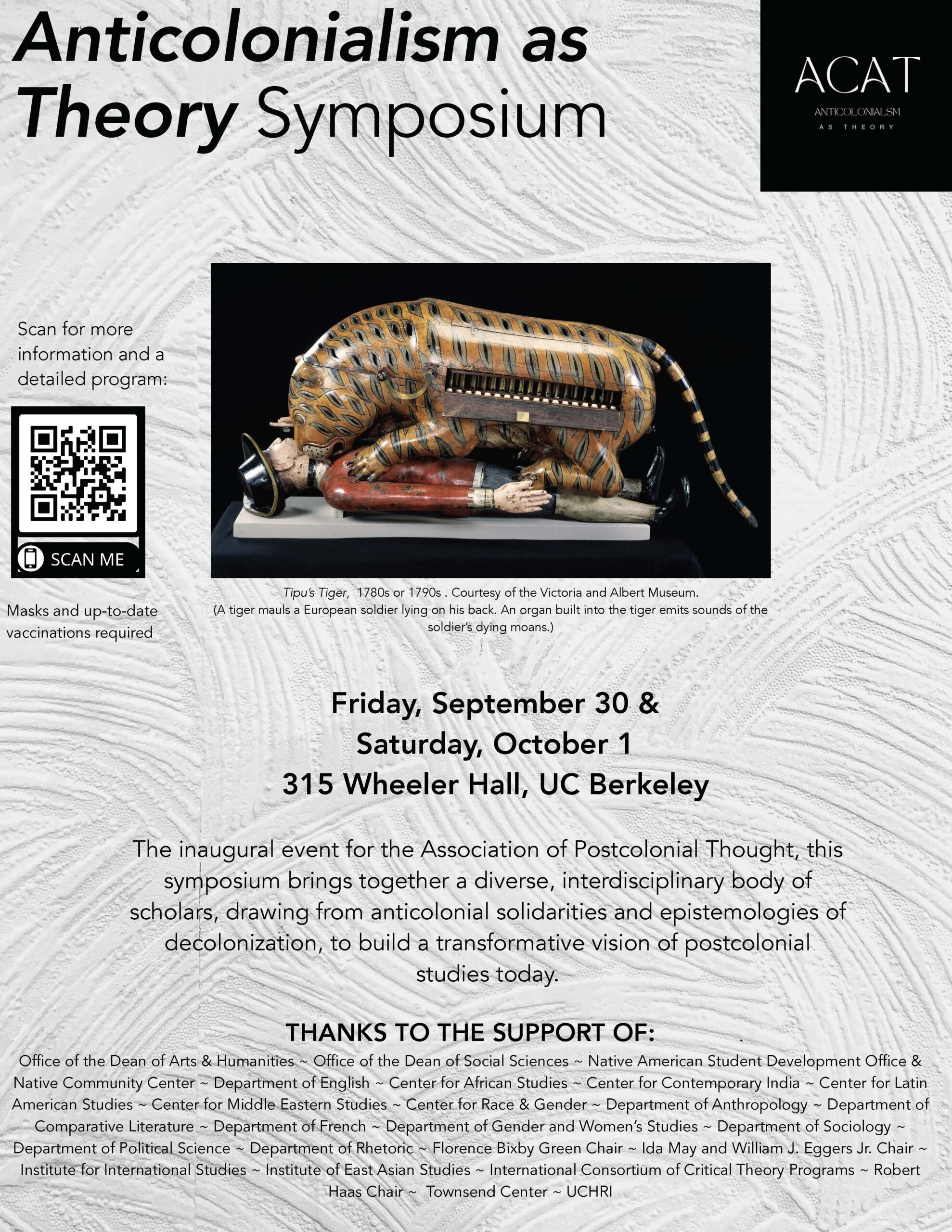 Anticolonialism as Theory Symposium
Association of Postcolonial Thought

Anticolonialism, as historical process and political philosophy, concerns itself with the quest for liberation. Our symposium centers anticolonialism as a vital resource for the rethinking of past, present, and future visions of the end of empire. We understand anticolonialism in a temporally and geographically expansive sense and know the "post" of postcolonialism to not mean "past." Postcolonial critique is a comparative project, inclusive of the literature and culture of former European colonies, alongside insurgent minority forms from across the globe, and claims of Indigenous peoples to cultural and territorial sovereignty. In this spirit, we invite promiscuous, speculative, and recombinant work from the humanities and social sciences that proposes a fresh understanding of the field of postcolonial studies, its legacies, and its futures.
We proceed from a commitment to the imaginative possibilities inaugurated by anticolonial thought and the urgency of critique now. The uncertain present of endless war, converging catastrophes, and worsening global inequality reveals the exigency and relevance of postcolonial studies and, at the same time, demands new modes of critical theory.
This two-day symposium, hosted by the Association of Postcolonial Thought and the University of California, Berkeley, looks to bring together a diverse, interdisciplinary body of scholars and instigators to revive anticolonialism as theory.
Click here for the full program and list of speakers.
Organizer:
Poulomi Saha
Associate Professor of English
UC Berkeley
Co-organizer:
Yogita Goyal
Professor of African American Studies and English
UCLA
Sponsors
The Office of the Dean of Arts & Humanities, Office of the Dean of Social Sciences, Department of English, Center for African Studies, Center for Contemporary India, Center for Latin American Studies, Center for Middle Eastern Studies, Center for Race & Gender, Department of Comparative Literature, Department of French, Department of Political Science, Department of Rhetoric, Florence Bixby Green Chair in English, Ida May and William J. Eggers Jr. Chair in English, Institute for International Studies, Institute of East Asian Studies, International Consortium of Critical Theory Programs, Native American Student Development Office, Native Community Center, Program in Critical Theory, Townsend Center, and UCHRI.
For more information, please visit the Association of Postcolonial Thought webpage for the symposium.