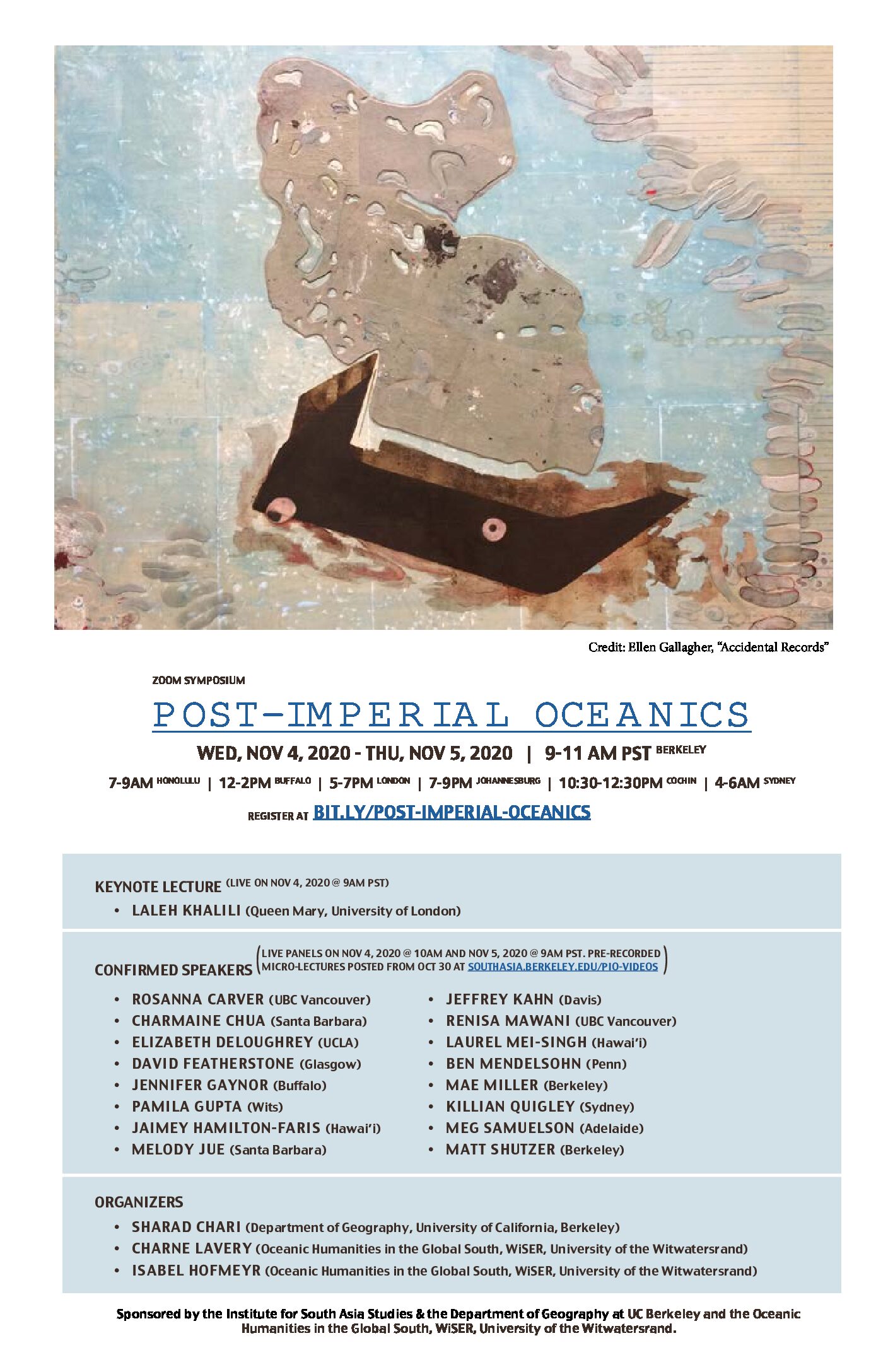 Post-Imperial Oceanics
Organized by Sharad Chari (Department of Geography, Berkeley), Charne Lavery (Oceanic Humanities in the Global South, Wits), and Isabel Hofmeyr (Oceanic Humanities in the Global South, Wits)

Register here to join the webinar.
7-9AM Honolulu | 12-2PM Buffalo | 5-7PM London | 7-9PM Johannesburg | 10:30-12:30PM Cochin | 4-6AM Sydney
A 2-day virtual conference that brings together a set of thinkers engaged with fragmented, layered and linked oceanic imperial processes, to think with the creative tensions between sociocultural processes across oceanic surfaces, and the mysteries of the submarine.
Keynote lecture: Live on November 4, 2020, 9AM PST
Laleh Khalili (Queen Mary, University of London)
Live Panels on November 4, 2020, 10AM PST and November 5, 2020, 9AM PST. Pre-Recorded micro-lectures posted from October 30 at: https://southasia.berkeley.edu/Pio-Videos.
Confirmed speakers (10 min pre-recorded talks and live panel discussions):
Rosanna Carver (Lancaster)
Charmaine Chua (Santa Barbara)
Elizabeth DeLoughrey (UCLA)
David Featherstone (Glasgow)
Jennifer Gaynor (Buffalo)
Pamila Gupta (Wits)
Jaimey Hamilton-Faris (Hawai'i)
Melody Jue (Santa Barbara)
Jeffrey Kahn (Davis)
Renisa Mawani (Vancouver)
Laurel Mei-Singh (Hawai'i)
Ben Mendelsohn (Penn)
Mae Miller (Presidential Postdoc, Berkeley)
Killian Quigley (Sydney)
Meg Samuelson (Adelaide)
Matt Shutzer (Ciriacy Wantrop Postdoc, Berkeley)
Conference organizers
Sharad Chari (Department of Geography, Berkeley)
Charne Lavery (Oceanic Humanities in the Global South, Wits)
Isabel Hofmeyr (Oceanic Humanities in the Global South, Wits)
Sponsored by the Institute for South Asia Studies and the Department of Geography at UC Berkeley and the Oceanic Humanities in the Global South, WiSER, University of the Witwatersrand.