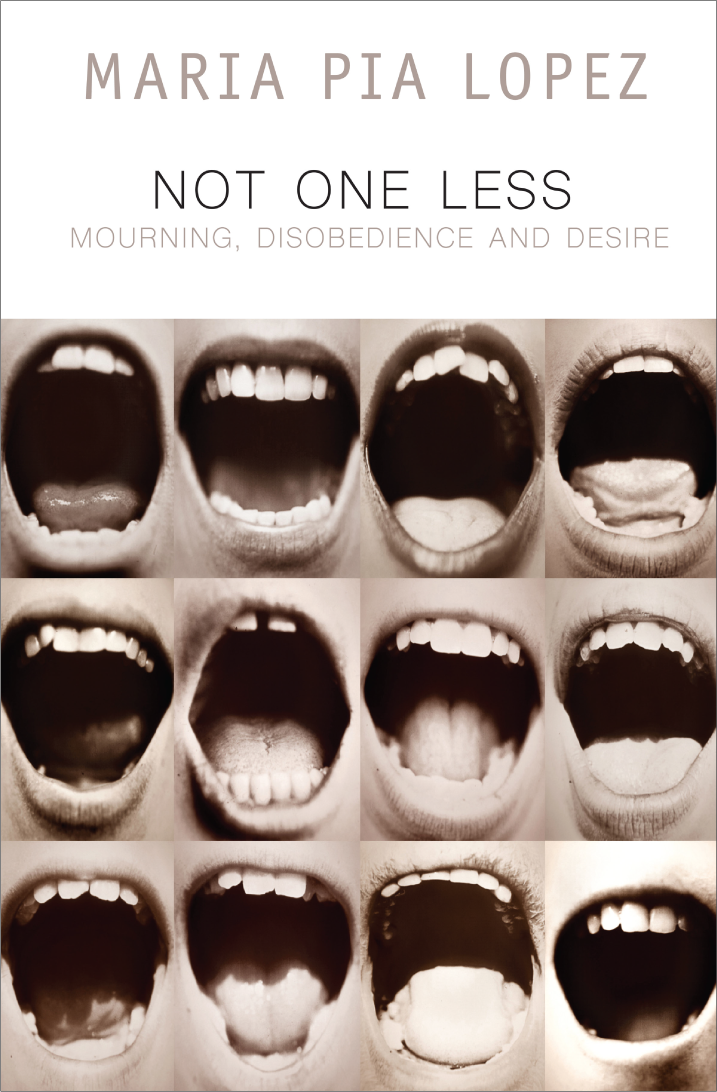 Conversation on Not One Less: Mourning, Disobedience, and Desire
María Pia López (Sociologist, Argentina), and Feminist Scholars Paola Bacchetta (UC Berkeley), and Leticia Sabsay (LSE), Moderated by Natalia Brizuela (UC Berkeley)

Register here to receive a personalized Zoom link to join the webinar.
Spanish-English and English-Spanish interpretation will be available to the first 500 registered participants on Zoom.
Habrá interpretación de español al inglés e inglés al español para los primeros 500 participantes registrados en Zoom.
Join the International Consortium of Critical Theory Programs for a virtual event in a series of interventions organized by the Critical South book series.
Not One Less: Mourning, Disobedience and Desire, a conversation with the author María Pia López (Sociologist, Argentina), and feminist scholars Paola Bacchetta (UC Berkeley), and Leticia Sabsay (LSE), moderated by Natalia Brizuela (UC Berkeley).
On June 3, 2015, massive women's street demonstrations took place in many cities across Argentina to protest against femicide. Under the slogan Ni una menos, Not One (Woman) Less, thousands of women took to the streets to express their outrage at systematic violence against women, giving a face and a voice to women who might otherwise have died in silence. Maria Pia López, a founding member and active participant in the Not One Less protest, offers in this book a first-hand account of the distinctive aesthetics, characteristics and lineages of this popular feminist movement, while examining the broader issues of gender politics and violence, inequality and social justice, mourning, performance and protest that are relevant to all contemporary societies.
Critical South, a book series of the International Consortium of Critical Theory Programs published by Polity, aims to galvanize cross-regional conversations and expand the spatial-temporal, linguistic sense of contemporary critical theory. The series publishes texts from important traditions in critical thought emerging from the southern hemisphere that have generally not entered into discussions of critical theory in English, translating works that redefine the global scope and foci of critical thought for the present.
For more information, contact icctpbooks@berkeley.edu.
Presented by the International Consortium of Critical Theory Programs, with support from the Andrew W. Mellon Foundation and the Vice Chancellor for Research at the University of California, Berkeley, and co-sponsored by the Center for Latin American Studies.