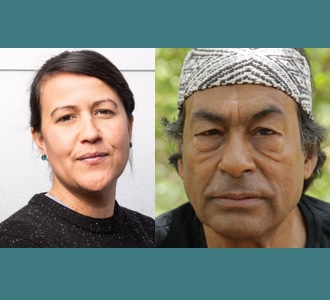 Natalie Diaz and Ailton Krenak: On Borderlands
Natalie Diaz, Ailton Krenak, moderated by Natalia Brizuela, Beth H. Piatote

A conversation about colonial legacies of encampment and border making in the Americas, with a particular focus on the occupation and destruction of indigenous lives and land. Indigenous artists and thinkers discuss migration/mobility as a practice constitutive of indigenous forms of life, and itineraries of movement across human and nonhuman, visible and invisible borders in the context of settler colonial forms of spatial and human division, exclusion, segregation.
Natalie Diaz is Mojave and an enrolled member of the Gila River Indian Tribe. Her first poetry collection, When My Brother Was an Aztec, was published by Copper Canyon Press, and her second book, Postcolonial Love Poem, was published by Graywolf Press in March 2020. She is a MacArthur Fellow, a Lannan Literary Fellow, a United States Artists Ford Fellow, and a Native Arts Council Foundation Artist Fellow. Diaz is Director of the Center for Imagination in the Borderlands and is the Maxine and Jonathan Marshall Chair in Modern and Contemporary Poetry at Arizona State University. She lives in Phoenix, Arizona.
Ailton Krenak is a Brazilian Indigenous intellectual and activist. A leading environmentalist and advocate for Indigenous rights, he is the author of Ideas to Postpone the End of the World (2019) and O amanhã não está à venda (2020).
Natalia Brizuela is professor in the departments of Film & Media and Spanish & Portuguese at UC Berkeley, where she is also a project director and co-principal investigator for the International Consortium of Critical Theory Programs. She is also affiliated with the Program in Critical Theory and Gender and Women's Studies. Brizuela is the author of Photography and Empire; After Photography; and The Matter of Photography in the Americas. She is co-editor of the book series Critical South (Polity). She has curated a number of exhibitions in the United States and Argentina, among them The Matter of Photography in the Americas (Cantor Arts Center, Stanford University, 2018) and No sé (El templo del sol) (Parque de la Memoria, Buenos Aires, 2014).
Beth Piatote is a scholar of Native American/Indigenous literature and law; a creative writer of fiction, poetry, plays, and essays; and an Indigenous language revitalization activist, specializing in Nez Perce language and literature. She is the author of two books: Domestic Subjects: Gender, Citizenship, and Law in Native American Literature (Yale 2013); and The Beadworkers: Stories (Counterpoint 2019), which was longlisted for the Aspen Words Literary Prize, the PEN/Bingham Prize for Debut Fiction, and shortlisted for the California Independent Booksellers Association "Golden Poppy" Award. Her current projects include a series of scholarly essays on Indigenous law through sensory representations of sound, vision, synaesthesia, and haunting in the long 20th century literary works; essays on Indigenous language revitalization; a novel, a poetry collection, and further development of her play, Antíkoni. She is Nez Perce, enrolled with Colville Confederated Tribes.
Presented by the International Consortium of Critical Theory Programs, with support from the Andrew W. Mellon Foundation, the Vice Chancellor for Research, Arts Research Center, Center for Race and Gender, and Center for Latin American Studies at the University of California, Berkeley.